Let's face it: hosting around the holidays is a stressful endeavor. While it can be great to get family and friends together for some much-needed quality time, great food, gift exchanges, and more, playing host for these parties often leaves people scrambling.
What am I going to cook? What time should everyone arrive? How many days do I need to plan? How much money is this going to cost me? Where is everyone going to eat? Where is everyone going to sleep?
Fortunately, Grand Home Furnishings can help you answer the latter.
Dining Options for Every Chef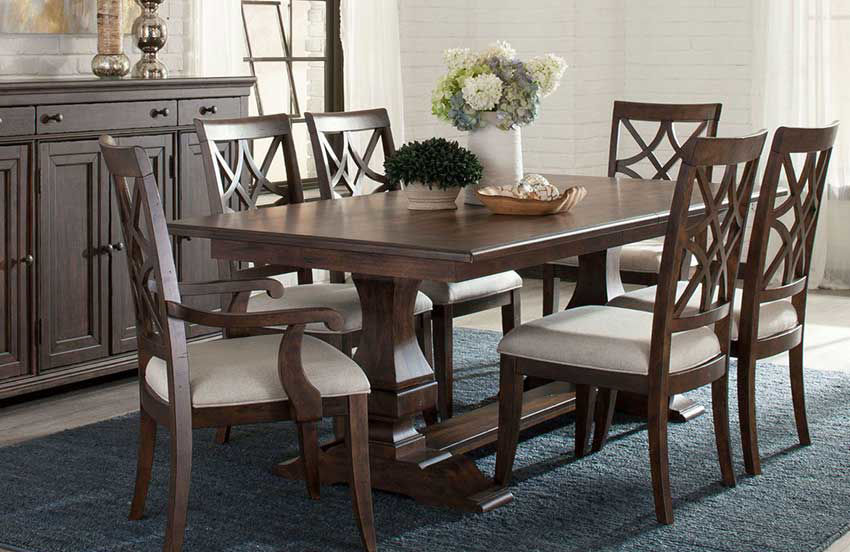 Need extra seating? Grand Home Furnishings is flush with larger dining tables that will seat large numbers of people — with more to spare by way of optional leaves and chairs.
Many dining sets come with the option to expand the table for larger parties, as well as additional chairs available for purchase. You'll never need to worry for seating again!
Sleepers for Style, Sleepers for Comfort
Maybe you don't have a guest room. Maybe you only have one and other guests are already going to be using it. Does this mean you need to cap the number of out-of-town guests staying at your home? Not always.
A good sleeper sofa serves a dual purpose. They're stylish and comfortable, the perfect focal points of any living or family room. They also come in a variety of styles — two-cushion, three-cushion, sectional, microfiber, leather, arm rests or no arm rests, and more; options are nearly as limitless as they are with any standard sofa. Most importantly, though, these seating arrangements transform into sleeping options when the sun goes down, serving you and your guests with some much-needed relief as the evening ends.
At Grand Home Furnishings, our sleeper and futon selection are truly unbeatable. Most mattresses packed into older pull-out sofas are flat, spring-loaded pads that leave guests tossing and turning in an uncomfortable sweat all night long. Our in-store and online selection boasts a range of options — including memory foam, queen-sized mattresses that comfortably sleep one or two guests all night long. Throw in the fact that most sleepers come furnished with throw pillows, cushion sets, zippers for easy cleaning and more, and these options are no-brainers for anyone hoping to add some extra sleeping space in their home this season.
Guest Rooms and More
Are you lucky enough to have a few spare guest rooms to entertain guests? If so, maybe the room is out of date. Maybe it's not furnished at all. Maybe it used to be an office, nursery, or something else that's totally different from the new space you seek. No matter what the case may be, you need to check out Grand Home Furnishings' bedroom selection. Our website and brick-and-mortar locations are full of bedroom set options, dressers, mirrors, chests, nightstands, mattresses, and accents sure to make your company smile!
When updating a guest room, the mattress is just as important as the accent pieces. No matter the size of the room or state of your company, our mattress selection will undoubtedly please. We sell box springs and frames for a raised, even elegant look and feel, but also adjustable sets to give visitors a more personalized touch. Moreover, we have mattresses from many different brands in a variety of sizes and plush/firm levels to best fit your desires.
Still undecided on where to shop for your first (or next) sleeper, futon, or guest room piece? Consider the Grand Difference, which promises a total satisfaction and lowest price guarantee with free delivery available. No matter what your needs may be, Grand Home Furnishings is the best local furniture option for you.
Host and Smile More, Stress Less with Grand Home Furnishings
When prepping for out-of-town guests, there are so many things to consider, so don't let worrying over where they'll stay stress you out — Grand Home Furnishings has got you covered there.
For more information on what Grand Home Furnishings offers compared to other furniture and mattress shops, including how we can best prepare you for the holiday season, visit us in-store at one of our 18 locations in Virginia (Bristol, Charlottesville, Christiansburg, Harrisonburg, Lexington, Lynchburg, Roanoke - Tanglewood & Valley View, Waynesboro, Wise, Winchester), West Virginia (Beckley, Lewisburg, Martinsburg, Princeton), and Tennessee (Johnson City, Kingsport), or shop with us online at https://www.grandhf.com/.