So, you need a new mattress or sofa. Maybe a new dining set, too. Perhaps you're laying out a home office for a new work-from-home position, or you're looking to furnish the rooms in your house with some new décor, end tables, chairs, or bedroom sets. Got kids? That's another discussion entirely — one that warrants serious consideration when refurnishing their space.
No matter what your personal needs may be, finding the right place to shop for new furniture is just as important as any part of the purchasing process. There are so many options available these days, from brick-and-mortar locations to online retailers, local stores to big-box chains, and even niche sellers in the luxury furniture space. How do you know where to start looking?
For starters, you need to ask yourself what matters most. Do you prefer supporting local businesses or massive corporations? What's your budget? Are you hoping to speak with someone about your options or do you prefer shopping from the comforts of your living room? What about warranties and other guarantees? How about customized products vs. ready-for-immediate delivery items?
Sometimes, you can't get everything you want — not even with big-time purchases that will redefine your living space.
That is, unless you shop local at Grand Home Furnishings.


Grand Home Furnishings: The Grand Difference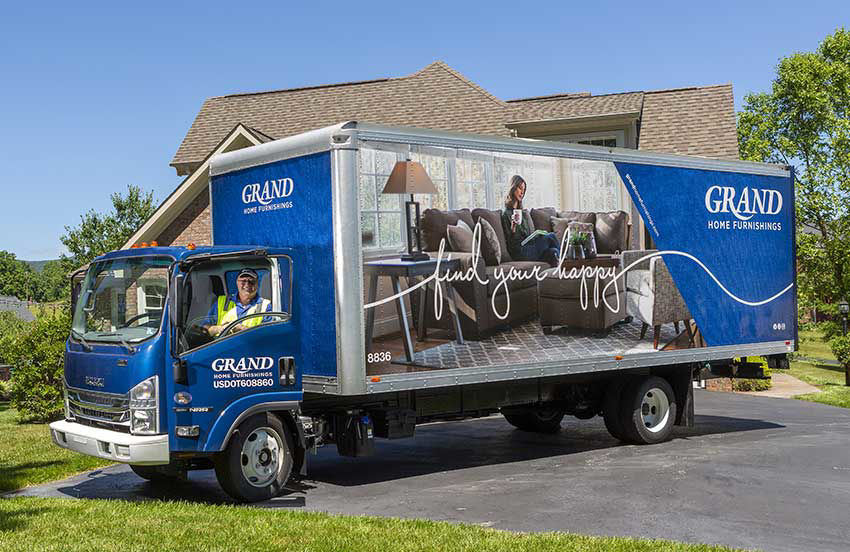 What is it that makes Grand Home Furnishings different from other high-quality retailers in the furniture market? Several things, actually:
We're a local furniture store, serving customers in Virginia, West Virginia, Tennessee, and other surrounding states and districts — such as Maryland and Washington D.C. — at 18 convenient locations. Each of these locations is staffed with qualified professionals who are eager to help you find the perfect piece for your home today.
If you prefer shopping at home, our website is both user-friendly and updated daily with all the latest pricing and ordering options, giving you the freedom to completely furnish your home without ever needing to step foot outdoors.
We offer a total satisfaction guarantee. What does that mean? If you're not 100% satisfied within 30 days of your purchase — even if that disappointment is nothing more than a subtle change of heart (let's face it: it happens on occasion to even the best of us) — we'll exchange the product for something you do loveor provide a full refund. We pride ourselves on this kind of customer service. It's that simple.
Nobody beats our prices. We guarantee that, too. In fact, we're so sure our values won't be beaten that if you find an identical item in stock at any other retail store in our trading area within 30 days of your purchase, we'll refund you 110% of the difference.
Yes, you read that correctly: if you find an identical item to the one you purchased for less than you paid, we'll give you more than the difference to ensure Grand's "lowest price" promise. The same goes for mattresses — and on the double (or, 125%, at least). We're the area's largest mattress dealer, so if you find a mattress set or hybrid mattress in stock for less than what you paid within 30 days of your purchase, you're making that money back and then an additional 25%. Talk about no-lose situation, indeed.
Grand Home Furnishings, a premiere furniture and mattress store, staffs professional design consultants for even the most lavish projects. While many of our customers love the in-house selection of furniture options at Grand, some wish to take a personalized approach. Our team make this happen before, during, and after the sale — and each of them receives extensive education upon hiring (including factory training and tours) prior to working with you on our floor. Through our special-order program, we can create the perfect pieces with your choice of fabric, finish, pillow, trim, and more. And with convenient financing options available, there's never a project too ambitious to satiate your desires.
Multiple delivery options: Picking up furniture in-person isn't possible for everyone; if you don't own a truck, it's oftentimes impossible. Grand Home understands this, appreciates it, and offers a range of delivery options in light of it — including free door delivery on all purchases over $199. Our delivery team is trained to make you happy, offering the best delivery experience possible; they'll even call you on the day of your delivery and provide an estimated delivery window for your convenience. A premium, in-home delivery is also available for just $149.95, which takes complete care of delivery and set-up of your new furniture. Merchandise will be unpacked and placed in the home at the customers direction and all packaging will be removed.
When shopping with us, all you need to worry about is how good your new purchase is going to look, not how you're going to get it there. We've got that covered.


The Best Furniture Near You: One Hundred-Plus Years of Service


Perhaps most importantly, Grand Home Furnishings is a company built on trust, evidenced by our having been in business for over 110 years. Our greatest strength has always been the people we serve, the local community, making us the premiere "furniture near me" destination in every city and town we serve.

No matter what your furnishing needs may be, trust the brand others in your area have trusted for more than a century. Trust the Grand Difference and see what everyone else is always talking about.

For more information on what Grand Home Furnishings offers compared to other furniture and mattress shops, visit us in-store at one of our 18 locations in Virginia (Bristol, Charlottesville, Christiansburg, Harrisonburg, Lexington, Lynchburg, Roanoke - Tanglewood & Valley View, Waynesboro, Wise, Winchester), West Virginia (Beckley, Lewisburg, Martinsburg, Princeton), and Tennessee (Johnson City, Kingsport), or shop with us online at https://www.grandhf.com/.