While Miss Virginia, Victoria Chuah, will need to wait a few more months to see whether she takes home the title of Miss America, she has plenty of reason to celebrate now.
Along with winning the title of Miss Virginia on Saturday, June 25, 2022, a $20,000 scholarship, a spot in the Miss America pageant, and a $2,000 reward, the newly-crowned Miss VA also gets to enjoy a newly-furnished apartment in Roanoke, VA — courtesy of Grand Home Furnishings!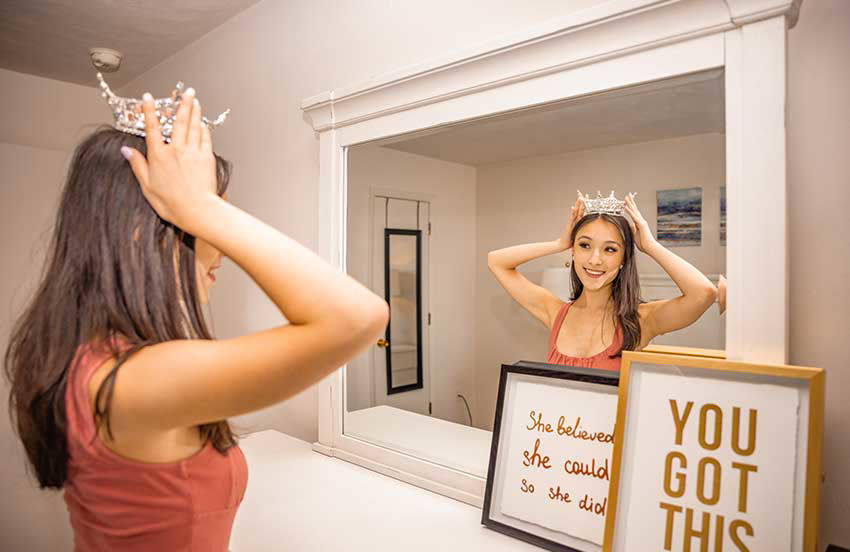 And guess what? You, too, can live like a winner with a visit to our stores. Check out the way we upgraded Miss VA's home and consider giving your personal oasis a little extra love, as well.
Living Room: A Place to Show Who You Are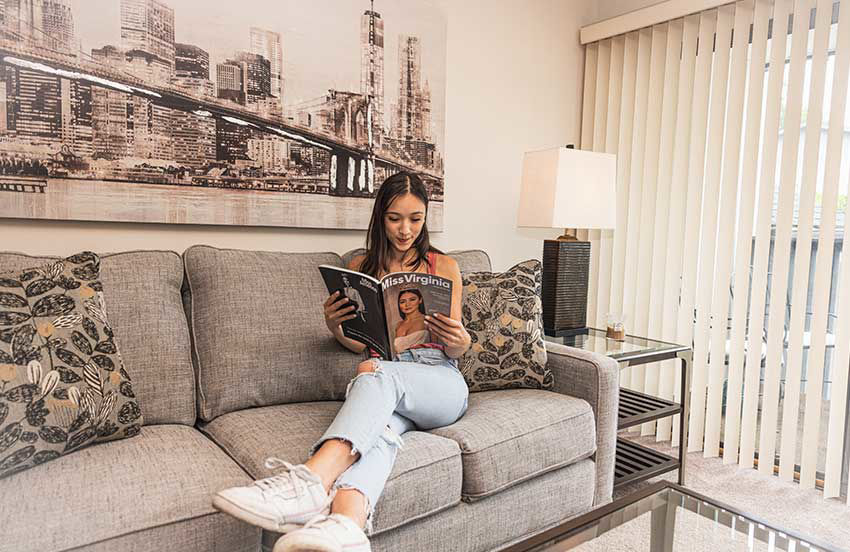 Whether you plan on entertaining, relaxing, or simply living in your home common area, a living room provides you with an opportunity every time you step foot inside: an opportunity to showcase who you are.
For Miss Virginia, we outfitted her apartment with beautiful occasional tables that bring the room together, as well as a comfortable Kennedy Smoke Sofa and Fresco Swivel Chair so she can unwind before and after any future competitions or appearences.

Still, the living room also provides an opportunity to give her some room to work and prepare for all the pageant life throws at her, so essential items like an Ashley Office Desk, printer stand, desk lamp, and Draper chair felt essential.
The result? A peaceful corner of the apartment where she can work and play, depending on the day.
Dining Room: Eat, Drink, Laugh, Love
With the way the apartment is structured, our team at Grand Home Furnishings felt an Auden Dining Table with four matching chairs would fit in perfectly amongst the other décor.
Not too big and not too small, this set is just right for small-group gatherings — or even a solo meal after a long and stressful day! The chair seats are upholstered, the glass table is beveled and tempered, and the finish is both authentic and modern.
Bedrooms: Two Rooms with One Goal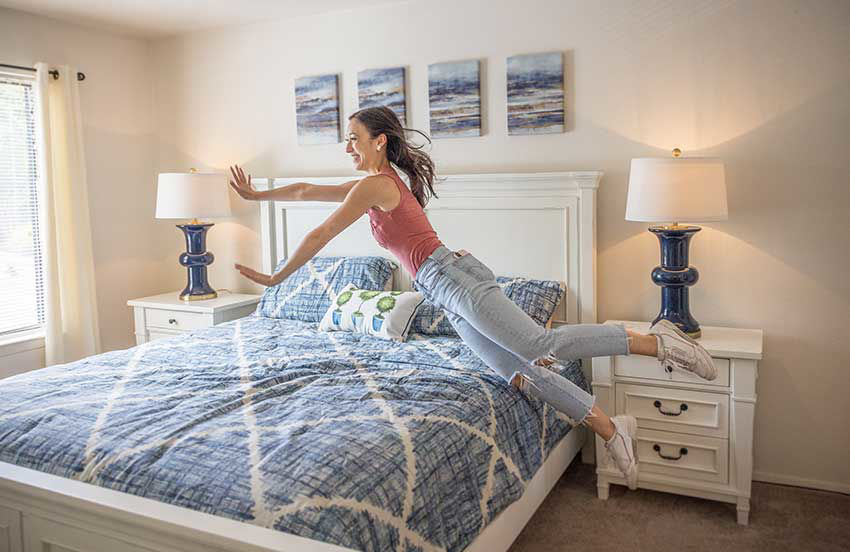 In every two-bedroom apartment, there are a few essentials: Beds, dressers, nightstands, and foundations. Well, with this project, we covered the basics and more.
For both rooms, our Grand Home team started by finishing the rooms with bed sets — a king for the master and a queen for the guest room — topped off with comfortable mattresses and solid foundations to ensure the best possible sleep. Then, we matched these sets with a beautiful antique white nightstand and dresser in the master and a dark-grey Diego nightstand and dresser in the guest room.
We didn't stop there, though. On top of the essentials, we dressed each room with beautiful mirrors, lamps, and wall art to bring everything together. What once looked outdated and plain now looks full of life and joy. These rooms will leave Miss Virginia and her guests feeling refreshed, recharged, and ready to go for whatever comes their way.
Grand Home Furnishings: Find Your Happy
No matter what your next in-house project is, Grand Home Furnishings is the perfect place to shop a new look. We offer several different styles, makes, and products for living rooms, bedrooms, dining rooms, kids areas, offices, outdoors, and more. Visit us online at grandhf.com, or shop with us in-store in Virginia, West Virginia, and Tennessee.

With over 110 years of experience satisfying customers, lowest-price guarantees, free door delivery, and a huge selection of inventory to choose from, take a page out of Miss Virginia's book and trust Grand Home Furnishings with your home's next upgrade.
Call Grand Home Furnishings for more information about our brand at 866-472-6343 or visit us on social media.