If you're looking for quality furniture that will last look no further than Kincaid Furniture. We have been close partners with them from the very beginning and even encouraged them to build their first bedroom group! During the years following World War II, supplies of new furniture were still difficult to obtain since most major manufacturers had been devoting the bulk of their production capabilities to the war effort. What little furniture was available typically was sold only to the very largest retailers.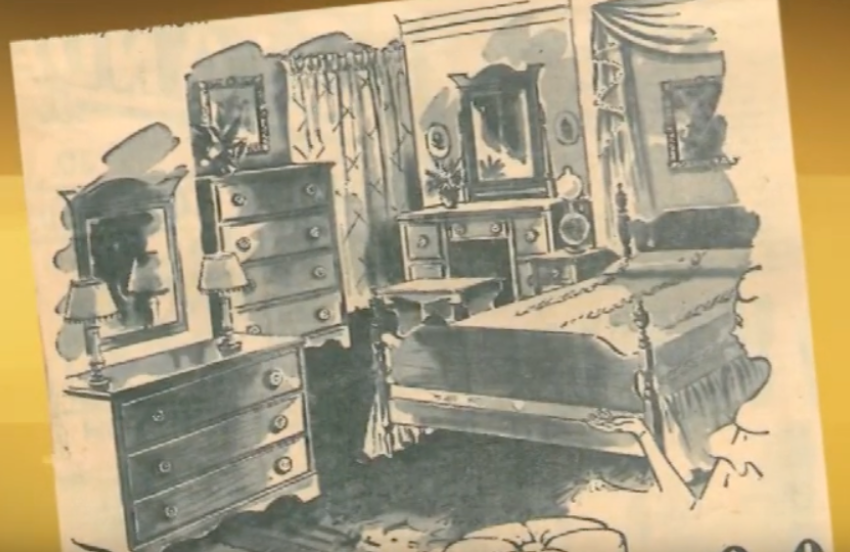 To find a source of quality bedroom furniture, owner of Grand Home Furnishings, George Cartledge Sr. approached his friend J. Wade Kincaid. Kincaid had recently started a small factory in western North Carolina with his brother producing cedar chests and wardrobes. George Sr. asked Wade if he would make a solid-mahogany, four-piece bedroom group. When Wade said "no," it was too risky for his fledgling company to produce an entire group, George Sr. asked if he would be willing to take on the order if four cuttings were sold in advance.


"Wade agreed, thinking there was no way that was going to happen, but my grandfather called up Sterchi's, Rhodes-Havertys and another area retailer and in no time he had commitments for all four cuttings," said George Cartledge III. "That put Kincaid into the solid-wood bedroom business, and they eventually grew to become the largest producer of the category in the U.S. and our biggest supplier."
While several enhancements have been made since their beginnings in 1946, Kincaid still uses solid wood construction, time-tested joinery techniques, and hand rubbed finishes to craft their wood furniture.


Weatherford by Kincaid: Give Your Home a Rustic Touch
One of our newest arrivals from Kincaid is the Weatherford Collection. It features pieces for multiple rooms in your home. Inspired by the laid-back, casual nature of a traditional farmhouse, the Weatherford collection brings a simple, serene outdoor look inside with a fresh twist. Each piece is constructed with solid New Zealand Pine, using various techniques to craft each part of the furniture.

The result? Two different finishes: Cornsilk and Heather. Cornsilk is a lighter hue, nearly white, while the Heather finish is more of a grey-brown blend that works well in darker settings. Whether your room is bright and full of life or on the edge of darkness, a piece from Weatherford by Kincaid will add dimension to the area, building character among the furnishings in your home.





Weatherford Collection: Bedroom

Made of solid New Zealand Pine, the Weatherford collection brings a certain casual sensibility to any bedroom. Choose between Heather finish or Cornsilk finish on a varity of items.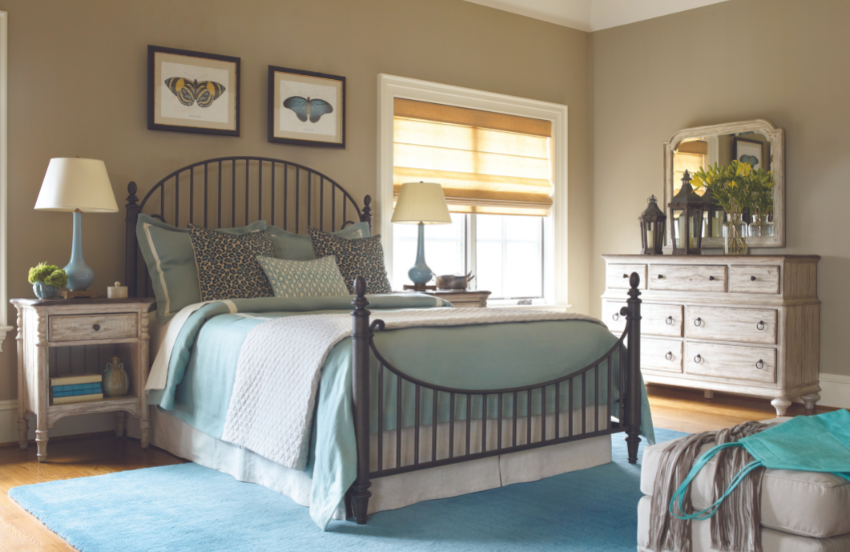 Caitlin's Metal King Bed: A metal variant of the Weatherford Heather Collection, this stunning king bed comes in a charcoal-grey finish with an arched headboard and curved footboard. Scroll accents dance across both sections, offering a sense of contrast and originality reminiscent of other Kincaid solid-wood products.
Devon Lingerie Chest: In need of new storage space for your delicates? The Devon Lingerie Chest comes in a distressed, worn finish topped with a contrasting heather-grey top. It's classy, edgy, and even a little daring. With six storage drawers included, you'll never want for personal storage space again.
Solid Pine Westland King Bed: This Weatherford bed comes in both Queen and King sizes. Features the light Cornsilk finish, large panels with vertical planks and a beautifulcurved headboard and carved posts with finials.
Ellesmere Dresser: This Weatherford dresser comes in a heather-grey finish, distressed and worn with finish accents of pine wood. It comes with seven storage drawers, two doors, and one beautiful wow-factor. Never struggle with opening and closing drawers again with the Ellesmere Dresser's full-extension drawer, which glides to allow soft closings.
Weatherford Collection: Dining Room
With the ideal sense of casual style, the Weatherford dining collection offers a soft, weathered look that complements any dining room. Features two styles of tables - the Millford Round or the rectangular Canterbury.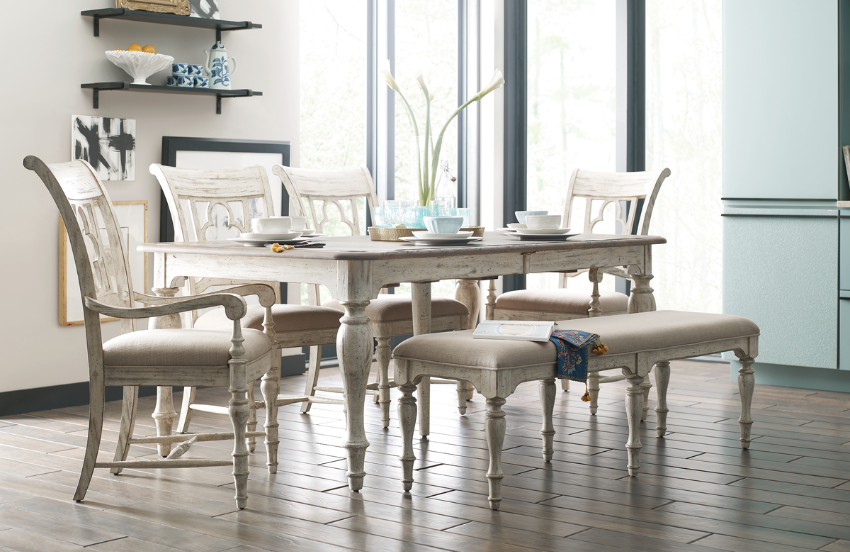 Baylis Arm Chair: This gorgeous dining chair, crafted with a cornsilk finish, features arm rests on both sides for a comfortable dining experience. Hand-applied finish accents give this a beautiful worn, cornsilk finish. This piece is also available as a side chair.
Milford Round Dining Table: Looking for durability? Say no more with this Weatherford collection round dining table. Topped with a Kingsguard performance finish to ensure durability, this piece — which can comfortably seat six with the 18" leaf insert" — is perfect as both a practical and aesthetic piece.
Belmont Dining Bench: Need extra seating? This bench works perfectly in the dining room or even as extra seating in the bedroom or foyer. Tweed like light brown upholstery and heirloom-quality construction.
Weatherford Round Dining Group: Durable solid wood construction for better quality and value. This group is perfect for saving space, but can comfortably seat six when the 18" leaf is inserte. Includes four upholstered side chairs.
and additional 3 drawers for more storage.
Weatherford Collection: Living Room
Each piece in the Weatherford collection is available in either the soft Cornsilk finish (with Heather finish tops) or the grey Heather finish. Weatherford makes the perfect living room companion to Kincaid custom upholstery.


Weatherford Cocktail Table: Simple, elegant, and insanely useful, this two-tone Weatherford cocktail table comes with cross-stretchers for durability and full-extension, soft-close drawers for practicality. The antique metal hardware gives this a feel of heirloom-quality that can only be matched by 100+ year old pieces. Upgrade your living room with one today.
Weatherford 56" Console. A centerpiece. A show-stopper. An all-around perfect television unit perfect for any living space. This 56" Weatherford console comes flush with center cubbies for electronics, holes in the back for cord maintenance, and vent slots to prevent overheating. This one will have your guests raving, we're sure of it.
Weatherford Accent Table. The Weatherford accent table brings a certain casual sensibility to any room. Made from solid New Zealand Pine with a cornsilk finish that has a distressed, worn finish and a contrasting heather gray finish top. Round base adds a classy touch. Durable solid wood construction for better quality and value.
Weatherford Chairside Table. The Weatherford table brings a certain casual sensibility to any room. Made from solid New Zealand Pine with a cornsilk finish that has a distressed, worn finish and a contrasting heather gray finish top. Shudder style drawer front provides a classy touch. Plug in your lamp or charge your device with the built-in power strip. Durable solid wood construction for better quality and value.
For more information on what Grand Home Furnishings offers compared to other furniture and mattress shops, visit us in-store at one of our 17 locations in Virginia (Bristol, Charlottesville, Christiansburg, Harrisonburg, Lynchburg, Roanoke - Tanglewood & Valley View, Waynesboro, Wise, Winchester), West Virginia (Beckley, Lewisburg, Martinsburg, Princeton), and Tennessee (Johnson City, Kingsport), or shop with us online at 
https://www.grandhf.com/
.